Back to Publications

Cheryl Bratt: Education in Grit DOWNLOAD PDF
January 11, 2022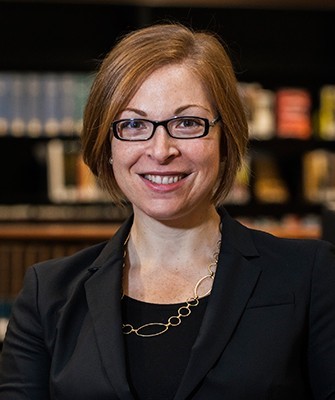 In ninth grade, Cheryl's father sat her down after a long field hockey season spent on the bench. Although she may not have been a star athlete, he told her that he was proud of her for working hard and sticking it out—traits that ran deep in her family. The next year, Cheryl's father passed away, but Cheryl held his lessons in grit and hard work forever, employing such skills throughout academics, and life.

Cheryl grew up in the New York suburbs, the daughter of two hard working first-generation Americans. Her grandparents had immigrated to New York decades before, and her parents were first-generation college graduates. Cheryl lived the typical suburban upbringing as the middle child of three girls, with her mom working as a teacher and her father in business and then as a lawyer. Her parents instilled grit and hard work in their daughters from the beginning, and by example—each earning advanced degrees in the evenings while raising their children.

Although she was a good student, Cheryl often had her focus elsewhere. It wasn't until high school, when she joined the debate team, that her focus changed. First, the debate team im-proved her writing and fostered an increased interest in learning. Second, it opened new doors, offering Cheryl a chance to attend a debate camp at the University of Michigan after fresh-man year of high school. In Ann Arbor, six hundred miles from home, Cheryl felt cool in a nerdy kind of way.

Returning home, Cheryl found her father in declining health. After his death, the family struggled, each in their own way. In addition, Cheryl was also struggling with her sexual identity, beginning to realize that she was different. With her older sis-ter away for college, Cheryl was now the oldest child at home, and in her gritty kind of way, Cheryl dug into her academics—in part as a way to honor her father.

Craving change and the ability to explore new places, Cheryl initially wanted to attend college in California. When her mother said that Cheryl couldn't leave the Eastern Time Zone, her fond memories of Ann Arbor led her to choose Michigan. There, Cheryl majored in Women's Studies and English, and made the decision to come out. It was a turning point in pop culture with respect to gay rights—Ellen DeGeneres had just come out on the TV sitcom "Ellen" in 1997 and there was a feeling in Cheryl's community that a sea change in women's rights, LGBTQ rights, and activism was on the horizon.

After college, Cheryl accepted a job with Teach for America, teaching eighth grade language arts in New Orleans. Coupling the challenges of being a first-time teacher with the realities of working in a disenfranchised and under-resourced community, Cheryl's first semester was difficult. But despite her racial, religious, and sexual orientation differences, Cheryl's grittiness helped her through that first semester. As she gained more experience, Cheryl went from surviving to thriving, with 98% of her students passing the high-stakes exam at the end of her second year. And despite the environment requiring her to cover her sexual orientation, Cheryl still loved New Orleans: the festi-vals, culture and revelry.

As Cheryl's time in New Orleans came to an end, Hurricane Katrina was rolling in. Cheryl evacuated and went home to New York, considering next steps. She ultimately decided on law school, despite the pain in knowing her father would not be there to see it. Cheryl took the LSAT and shortly thereafter embarked on a journey to Africa, seven time zones away.

In Africa, Cheryl served as a paralegal to the Legal Advisor to the Government of Eritrea, traveling throughout Eritrea to interview villagers and assess war damages stemming from the 1998-2000 Eritrean-Ethiopian conflict. Covering her sexual orientation once again—for fear of imprisonment and her life—not many of Cheryl's colleagues or acquaintances knew about her sexual orientation, but such covering would become increasingly harder soon.

Cheryl traveled back to the University of Michigan for law school where her assigned LGBTQ mentor was a young 2L, Sue Dyer. They met at a summer job Q&A session where Cheryl uncharacteristically approached Sue, a panelist. At the end of Cheryl's 1L year, they start-ed dating. Cheryl and Sue continued their law school career together, and graduated in successive years. When Sue landed a job in Boston, Cheryl wasn't far behind, first serving as a clerk in Philadelphia for the District Court for the Eastern District of Pennsylvania and then in Bos-ton for the First Circuit.

Cheryl and Sue decided to marry in 2011. Marriage equality had yet to come before the Supreme Court, so instead of getting married in New York or in Sue's home state of Rhode Island, Cheryl and Sue settled for a small wedding ceremony in Massachusetts, where marriage was legal under the 2004 ruling in Goodridge v. Department of Public Health, followed by a reception back in Rhode Island—the best that they could do with the existing legal status of marriage equality. After all, that sea change that felt like it was coming over a decade ago had only begun to arrive in certain places.
Newly married, Cheryl moved on to big law, working as a litigation associate in Boston at Wilmer Hale. At Wilmer, Cheryl specialized in securities litigation and also represented a variety of pro bono clients in education and family law matters.

Two years into her work at Wilmer, Cheryl's mentor and friend, Beth Wilensky, was expecting, and Michigan needed someone to teach legal writing for the semester. Convincing Wilmer to let her take a few months away, Cheryl went back to Michigan to teach in Michigan's Legal Practice Program, just as Sue was called away to help build out Ropes & Gray's Hong Kong office, thus putting them 14 time zones apart.

Despite the distance from Sue, Cheryl loved being back in the classroom and on campus. But personal life in Michigan was sometimes hard—under the Defense of Marriage Act, Cheryl's marriage was only legal in Massachusetts. While in Michigan, marriage equality briefly came to the Wolverine State when the state's same-sex marriage ban was invalidated. But despite the victory, the Sixth Circuit stayed the enforcement the next day, and upheld the ban on same-sex marriage six months later. It was not until a year later, with Obergefell v. Hodges, that Michigan, and all states, were required to grant (and recognize) same-sex marriages.

After her semester at Michigan, Cheryl knew that she wanted to pursue life in academia. Following a brief return to Wilmer in Boston, Cheryl embarked on her career in academia: first for a year as a Fellow back at Michigan in its Pediatric Advocacy Clinic, and then for two years as Assistant Director of Harvard Law School's Child Advocacy Program. But another Boston-based school had always been on Cheryl's radar. When Boston College had an opening in its Law Practice program for the 2016-2017 academic year, Cheryl applied and got it.

Starting her sixth year at Boston College next fall, Cheryl is one of several "out" faculty members; is one of the faculty advisors to Lambda, a LGBTQ student group; and has since earned a new title: Mom. Cheryl and Sue are proud parents to Ilan, named for Cheryl's father (5 years old), and Gabriel (2 years old). Cheryl and Sue live with their kids in Newton, Massachusetts, a mile from Boston College, where their same-sex marriage is well-accepted, if not commonplace, nearly 20 years after Goodrich.
What so many members of our LGBTQ community dream of, Cheryl and Sue are living—the normalcy of family life: shuttling kids to activities, managing play dates, and enjoying the exhaustion of chasing little ones. It is their time as a family that they enjoy most: spending time at the beach, riding bikes through the neighborhood, exploring playgrounds, and watching little league games.
Cheryl's life today is a long way from New Orleans, Africa and Hong Kong, and even further from the life Cheryl imagined when she was in high school, when marriage and children seemed impossible. Her grittiness and hard work paid off—in her professional life, and also in her personal life. In that way, despite the challenges so many in our LGBTQ com-munity still face, the sea change Cheryl first felt was coming at Michigan has arrived, at least on most days in Newton, Massachusetts.

To get in touch with Cheryl, you can email her cheryl.bratt@bc.edu or follow her on Twitter at @CherylBratt.
If you or someone you know is struggling with or has questions about sexual ori-entation or sexual identity, please visit the following resources:

It Gets Better Project: https://itgetsbetter.org
PFLAG: https://pflag.org
The Trevor Project: https://www.thetrevorproject.org
Trans Lifeline: https://translifeline.org